1) Passing pains
Formula One achieved a successful restart under the new regulations in Melbourne – if only in finally having two teams fighting one another with the promise of more to come. How those battles manifest themselves is the bigger question. Passing at Albert Park is always hard as it is a typical street circuit but nonetheless Lewis Hamilton was clear he could not overtake Max Verstappen, despite having fresher tyres. He had warned this would be the case pre-season because of the cars' new aerodynamics and increased dirty air in their wakes; post-race he was specific that it had become a major problem. His team-mate, Valtteri Bottas, was equally unequivocal but intriguingly Verstappen, who had said he did not believe it would be much different to 2016, changed his mind after Melbourne. "It's really hard to follow," he said. "I was quite a bit faster at the end than Kimi [Raikkonen], but as soon as you arrive, two seconds behind, that's it, you can't really get closer than that." Nico Hülkenberg said similar. A full judgment must wait until we have seen how it pans out on a variety of tracks but if competition at the front is combined with an inability for the cars to actually compete, the new formula will have failed. And there can be no excuses – that this might be the result of all that aero was well known by everyone involved.
2) Making moves
There was one passing move, however, that was impossible not to admire. When Esteban Ocon, Hülkenberg and Fernando Alonso went up against each other for 10th place towards the end of the race, they went three abreast and Ocon and Hülkenberg made it stick. Ocon replaced Hulkenberg at Force India, so he was making some personal points as well but sadly Alonso was the victim in their tussle, having already done a sterling job in a woeful car that was about to be retired. What was most interesting about it, however, was that all three were able to close and follow one another, move in and out of the slipstreams, fall back and try again. It is a characteristic of the new tyres that might offer some optimism in the overtaking debate. It was a point made earlier by Force India's technical director, Andrew Green. "How the tyres cope behind another a car will potentially allow drivers to attack more because they recover," he said. "You can overdrive the tyre and they do recover. That is completely different from last year. It was always an issue for the drivers as they approached another car, if they attacked and missed, they destroyed the tyres and they couldn't go again. This year it looks like you can attack and recover and attack again – you can have multiple goes at it. It could be the mechanism that unlocks more overtaking – I'm optimistic."
3) Red Bull lack balance
Verstappen admitted his team were off the pace on Saturday, saying their cars lacked power, grip and downforce; then Daniel Ricciardo lost his Red Bull, spinning into the wall in qualifying. The Aussie's weekend went from bad to worse when race-day problems stymied his grand prix and he ground to a halt. But Verstappen could still only manage fifth, 28 seconds back from Vettel. A major issue, it seems, is the FIA's decision to tell the team (and Mercedes) they could not use the hydraulically activated heave-spring systems they had as they contravened rules about gaining an aerodynamic benefit. Mercedes coped with the change; Red Bull have struggled and their car lacks balance. The system was complex and intricate and an integral part of the RB13's concept. They had been expected to challenge at the front this season but have some way to go to catch Mercedes and Ferrari. Solving this problem is the most crucial job before China.
4) FIA looks to the future
F1's new owner has made it clear, generally through Ross Brawn and Chase Carey, that they will not be standing still in planning the future of the sport but less has been heard from the FIA. The organisation's president, Jean Todt, was in Melbourne and he explained it had been working with Liberty Media. "I think it's very important we assess the situation of Formula One at a technical level and at a sporting level," he said. "My opinion, which I have expressed many times, is that Formula One is the pinnacle of motorsport, is a great show, but costs too much money. At the moment we have only 10 teams entering the championship with potentially 12 entries, so clearly we should be able to fill those two missing entries but the only way to fill that is probably by a different distribution of the revenues, which is not an FIA problem. We must see how we can afford to make the sport more affordable. I am shocked when I see the first day of testing in Barcelona. I remember in my time when we were able to do five laps it was: 'Fantastic, we did five laps.' Here I saw cars were doing 70 or 80 laps. They have been building laboratories in the factories where nobody has access." Todt is careful, thorough and precise in his answers, and will take to task any statement he believes is inaccurate; it is right that he and his organisation are fully involved in the process of building the future of F1.
5) Williams still top stoppers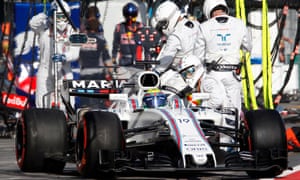 Haas were the surprise package in qualifying, with Romain Grosjean taking sixth place a full four-tenths ahead of the Williams of Felipe Massa in what is going to be a very tight midfield battle this year. But it was Williams who had the edge on race day, with Massa coming home in sixth, having overtaken Grosjean, while ultimately both Haas cars retired. Massa's team-mate Lance Stroll, the rookie Canadian, also had a relatively good afternoon, moving from 20th to as high as 13th before a brake problem forced him to retire. The team can take heart from this. Losing Bottas to Mercedes and having to bring Massa out of retirement was not what Williams planned but they showed pace in testing and badly need a strong year after some lacklustre seasons. Paddy Lowe is back in the fold and the team are already hitting their stride. They won the pitstop challenge last season, with the quickest stops at 11 of the 21 races – including a 1.92sec change in Baku. They were quickest again at Albert Park, with Massa's stop taking 2.34sec. "The work from the whole team, the pitstop – everything worked really well," Massa said. "We managed to beat the teams behind us in the right way. I'm really happy with the result today. Not bad for an old boy."