Ashes lessons so far: from Australia's fab four to England's failure to convert
1) England's failure to seize key moments proves critical
England have not been pulverised as they were in 2013-14. Theirs is a different kind of pain, the torment of life's cruellest question: what if? History can also be written by the vanquished, even if few people want to read their version; and though Australia have been the better team, England will reflect on their inability to either recognise or seize a number of key moments. At Brisbane they were 246 for four in the first innings, and then had Australia 209 for seven before the mysterious case of the absent Jimmy Anderson. And they will forever wonder what might have happened had they performed in the first innings at Adelaide as they did in the second. This is shaping up to be England's most frustrating tour of Australia since 1990-91, when they were competitive in all five Tests – and still lost 3-0.
2) Bigger contributions needed from Cook and Root
Hope is not an abstract concept. The mind paints vivid pictures of how dreams might become real. Almost every visualisation of England retaining the Ashes had Alastair Cook scoring runs in industrial quantities, wearing down Australia's four-man attack in the baking sun as he did seven years ago. Cook looked a bit better at Adelaide but 62 runs in four innings is sadly short of par. The same is true of Joe Root's aggregate of 142, even though he is England's leading run-scorer and played admirably on the fourth evening of the second Test. Their struggles have put too much pressure on the other batsmen. The decision to move Moeen Ali above Jonny Bairstow, hard to fathom at the start of the series, now looks almost perverse.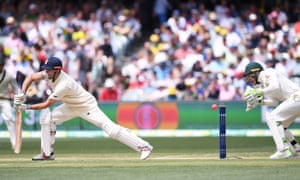 3) Lyon becomes a late-flowering leading man
Nathan Lyon might be cricket's Bryan Cranston, the character actor who became a leading man late in his career. He has had a profound impact on the series from day one in Brisbane, when he kept England in check on an unexpectedly slow pitch, and has since feasted on a batting line-up that could have been tailored for him: six left-handers, four of them in the top six. Ten of Lyon's 11 wickets in the series have been lefties. The right-handers have been able to survive against Lyon but no one has been able to attack him: his series economy-rate of 2.29 runs per over is the lowest of his career. He has also destroyed Moeen in both their head-to-head contests, outbowling him emphatically (11 wickets at 23 v two wickets at 98) and dismissing him in all four innings.
4) Converting fifties into hundreds wins matches
"Sixties aren't enough. We need 160s." Trevor Bayliss's pre-series comments sound increasingly like a clairvoyant's warning at the start of a horror film. James Vince's 83 at Brisbane – which seems an age ago, for the team and especially him – is the highest of five 50-plus scores by England batsmen. England have not only struggled to convert fifties into hundreds, they have also been unable to turn starts into fifties. An England batsman has been out between 15 and 49 on 18 occasions, twice as often as Australians have. And while Australia's record of two hundreds in two Tests is not going to inconvenience the statisticians, it's telling that Steve Smith and Shaun Marsh were the man of the match in each Test. By converting fifties into hundreds, they helped turned potential defeat into crushing victory.
You may also like...